Things currently on my to buy list:

Isn't it just lovely? (A poster)
This would really pull my room together- it even matches my pink dresser.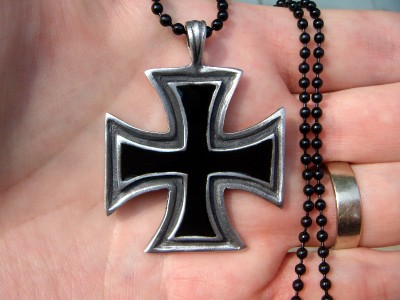 A bad ass necklace for bad ass Germans that do bad ass stuff for the military.
Which I haven't done, but it still looks bad ass.
AND IT'S ONLY 9.99 WITH FREE SHIPPING.
Yey, I got my dad to use his credit card and buy it for me!
I had to pay him back though haha
SUCCESS
This is just the coolest jacket ever.
I want it.
Heh heh heh, anyway, yesterday I got a book on ~THE HISTORY OF GERMANY~ It's called,
A Mighty Fortress: A New History of the German People
. It is a very good read, the writing is interesting and easy to comprehend. So it doesn't get boring. I actually like it quite a bit, I like history in general too. Baww.
Today, I got pissed off (incredible!!) because I wished to purchase an eight dollar jar of semi-permanent teal hair dye with my own money. My dad said I couldn't get it, and that I should have it done professionally. Are you kidding me? Why would I waste 30~40 dollars when I could do it myself for eight. I hate how parents are so fucking picky about your hair. Nothing is permanent with your hair, so I don't see what the big deal is. I would do it, and if I didn't like it the only person I could blame is myself. BAM!
Also, I am not allowed to get any kind of piercing ever. Or at least until I'm no longer a minor. WHICH IS BULLSHIT. If you get something pierced, and you don't like it, you can remove it and it will heal. :| Bwah, there is no reasoning with my parents. They don't understand that looking the way you want to look gives you more confidence. And that would definitely be the case with me! Well derp!
Current Mood:
RAAAAGE
Current Music: ein lied/rammstein